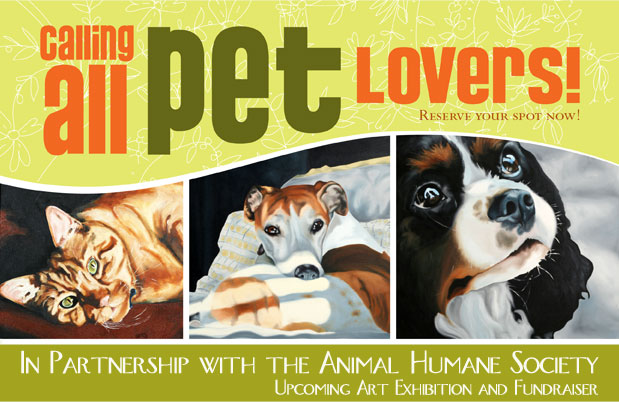 About the Project
Since 1878 the Animal Humane Society has been helping animals and the people who love them. In partnership with the Animal Humane Society, Stray Dog Arts is currently seeking participants to become part of a fundraising project and upcoming art exhibition: "Animals of AHS." To help us celebrate the thousands of animals rescued by the AHS, commission a portrait of the pets who have changed your life. You will be helping the lives of many more animals in need.
Dogs, cats, rats, ferrets, parrots, horses and rabbits... all are invited to participate!
20% of all commissions associated with this project will be donated to the Animal Humane Society.

Help support animal rescue efforts by commissioning a portrait today!
Details
What is the purpose of this project?
This project will culminate into an art exhibition featuring the animals of AHS.
The purpose is three-fold:
To raise money for animals in need.
To honor and acknowledge the unique beauty and intelligence of all creatures through art, shared stories, and connection.
To celebrate the many thousands of animal lives that have been saved as well as the countless individuals who have helped to make it possible.
Who can participate?
Everyone! Dogs, cats, rats, spotted, feathered, hairless, hairy, big, small, young, old, local, distant, urban, rural... bring on the menagerie! There will be two levels of participation: Alumni and non-alumni. Inclusion in the October exhibition is dependent on the response. Preference to be included in the exhibition will be given to animals who have been adopted from the AHS. However, ALL animals, whether included in the show or not, will be recognized and celebrated for their participation in this fundraising effort. 20% of ALL commissions associated with this project will be donated to AHS animal rescue efforts.
Who is considered Animal Humane Society Alumni?
AHS alumni includes any animal that was adopted from any of the five AHS locations: Golden Valley, Coon Rapids, St. Paul, Woodbury, and Buffalo.
If my pet was not adopted from the AHS, can I still participate?
Yes! Definitely. One of the most important aspects of this project is to raise money for animal rescue. This is your opportunity to have your pet's portrait painted and make a difference in the life of another animal at the same time!
Can my pet's portrait be painted "in memory"?
Love is a powerful thing—and there is perhaps no better way to celebrate the love shared between you and your pet than with a painted portrait. It would be my honor to create a painting of the animal friend that has played such an important part of your life.
What if I don't have any good photos?
Since I work from photo, good pictures are a very important ingredient to creating a good painting. However, if your photos aren't up to par, no worries! If you live in the Twin Cities area, you are welcome to schedule a photo shoot either with me or a professional photographer (per referral).
When and where will the exhibition be held?
The "Animals of AHS" will be showing at Now Boarding, AHS's new state of the art 24 hour pet boarding facility located adjacent to the Minneapolis/St. Paul International Airport. "Animals of AHS" will be open to the public for the month of October 2009. Please join us for the opening reception and celebration, details TBA. Get directions.
About the Process
Contact me via email or phone.
Send your best photos via email and/or schedule an appointment for a photo shoot.
50% nonrefundable deposit due at the time of the photo shoot or once we have an idea of an approximate portrait size (if I'll be working from your photos). Your place in the show and/or on the waiting list will not be held until the deposit is received. Deadline to be included in the exhibition is July 31st, 2009.
Sign a Fine Arts Contract (two copies—one for each of us).
I will begin painting the portraits to be included in the exhibition at the beginning of August (or earlier, depending on the waiting list). I will begin working on all other portraits, thereafter.
If your pet will be included in the October exhibition, your remaining payment is due by September 30th, 2009. The remaining payment for all other commissions will be due upon completion.
"Animals of AHS" showing for the month of October 2009 at Now Boarding! Opening reception and celebration TBA!
For those of you who are included in the exhibition, your portrait will be available for pick up in early November. Date and time TBA.
Price List
Download the price list here

note:
It is not necessary to decide on the exact dimensions of the painting since it is often best to let the photo do some of the deciding. However, if you have an approximate size or price range that you would like to stay within, I am happy to work with you to come up with something that fits your budget, your walls, AND your pet!

*Custom sizes are available.
*Prices are for one pet only.

how your participation makes a difference